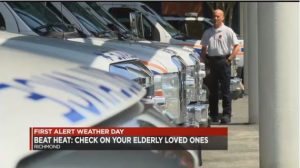 June 18, 2018
RICHMOND, VA (WWBT) – With temperatures nearing triple digits, it's important to keep yourself hydrated, shaded and alert. Your watchful eye could keep a senior citizen alive.
Experts say if you can't stand the heat, stay inside.
"The main thing is try to stay out of the sun as much as possible," said Chad Greedan.
Greedan is the field operations supervisor for the Richmond Ambulance Authority.
The Authority has been on standby, making sure they're prepared to cool you down in case of an emergency.
EMTs aren't exempt from the temperatures either.
"These trucks are metal boxes," Greedan said. "They do tend to get hot, even with the air conditioning on."
Jabril Little, an EMT, says the heat is "a little tedious," but the job still has to be done.
The teams hoses down the trucks and fills them up with ice and Gatorade. That work is two-fold. They can't help you, unless they're nice and cool too.
"People call rather frequently when it gets this hot," Greedan explained. "We'll get anywhere from a dozen calls a day for welfare checks for people getting hot!"
Things are only heating up. Tuesday is expected to be even hotter.
That's why crews suggest checking up on your elderly neighbors, just like they do.
"We'll go out and check on especially concerned neighbors, check on the elderly, especially if they don't have air conditioning or fans to stay cool." Greedan said.
"We worry about dehydration because many older people have chronic diseases," said Jo Simms with Senior Connections. "They take a lot of medications, and a lot of times they don't even become aware that they're becoming dehydrated."
Senior Connections is a non-profit agency for older people. This cooling program allows those sixty or older and 150 percent of the poverty level to get set up with a free fan.
This article originally appeared in nbc12.com