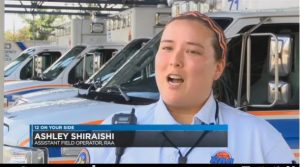 RICHMOND, VA (WWBT) – Emergency officials in the Richmond area continue to urge people to be extra careful when they're at the James River. On Saturday, a woman who couldn't swim got trapped on a rock in the middle of the river.
The easiest thing to do to keep yourself safe in unpredictable waters? Wear a life jacket.
"The first thing is to always wear a personal flotation device or PFD," said Ashley Shiraishi, Richmond Ambulance Authority (RAA). "It's kind of like of seatbelt. If you are not wearing it correctly, it's not going to help you. It's there to help you if the conditions become to hazardous or if you're not able to swim and yourself correctly."
The RAA is one of the first emergency services to be on the scene during a river rescue like Saturday's.
According to Richmond Fire, the woman who was rescued did not have a PFD.
Shiraishi also adds that drugs, alcohol and swimming in the James do not mix.
"It definitely impairs your survival abilities and your decision-making abilities," said Shiraishi. "I think a significant amount of water rescues are related to consumption of alcohol or illegal substances."
And it's important to keep track of river levels before going out on the water – something Dakota Clifford and his friends always do before going rafting.
"The water is always something that you have to be respectful of," said Clifford. "It can be dangerous at times. As long as you go out there and are cognizant of that and be safe when you're on the river, than you're not going to run into problems."
It's also important to monitor young children when they are in or near the water.
Firefighters say that when the river is above five feet, it is required to have a personal flotation device.
This article originally appeared on nbc12.com