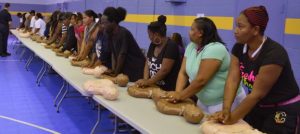 Sakiynah Jefferson and Auriel Cunningham pushed the chest of the plastic mannequins in sync with the instructor's claps, which followed the approximately 100 beats-per-minute pace of the Bee Gees' disco hit "Stayin' Alive."
The two were among about 40 people learning hands-only cardiopulmonary resuscitation at the Calhoun Family Investment Center in Gilpin Court last week.
Over the past year, more than 1,000 residents of Richmond Redevelopment and Housing Authority communities have been trained to do hands-only CPR.
The training is part of a broader citywide Richmond Ambulance Authority initiative to train as many people as possible to do the simpler CPR that consists of chest compressions only — no mouth-to-mouth rescue breaths.
"Eighty percent of out-of-hospital cardiac arrests happen in the home or a private setting," Michelle McLees of the American Heart Association said at the recent training.
"All of you now have the necessary skills to save someone in cardiac arrest. This could be a family member, loved one or a friend."
People should first call 911 if someone is in cardiac arrest and follow the instructions of the emergency dispatcher, who also can give instructions on doing hands-only CPR.
The ambulance authority has provided the training to RRHA residents at new tenant orientation sessions.
As of Tuesday, 1,109 residents in RRHA public housing communities had completed the training, said Rob Lawrence, chief operating officer of the ambulance authority.
The training is not a substitute for CPR certification that is required for some jobs.
However, it aims to get more bystanders to consider helping while emergency responders are on the way.
Lawrence said the citywide initiative will continue for another year, and he answered other questions about the effort.
QUESTION: How many people have been trained citywide in the initiative?
ANSWER: Since we started our current campaign in April 2014, we have directly trained 1,972 citizens and issued 1,042 (CPR training) kits to enable people to train others.
The net training total is 5,045 people (if everyone passes the training).
Other parts of our CPR training have included Spanish language classes, police citizen academies, National Night Out, Great Days of CPR, school groups and church events.
We have trained select Richmond Public Schools teachers to be CPR instructors as well, so they can carry on the training within the public school system.
Our aim is to train as many people as possible.
QUESTION: What's in the kit?
ANSWER: The kit, which is manufactured in a partnership between the (American Heart Association) and manufacturer Laerdal (Medical), contains an inflatable mannequin and an instructional video in both English and Spanish.
QUESTION: How is the program funded?
ANSWER: We have received grant funding to complete this program, including a Bloomberg Cities of Service CPR grant. We were gifted 500 hands-only CPR kits (no cash, just kits).
Altria Companies Employee Community Fund provided grant funding to purchase the training mannequins and further hands-only CPR kits ($24,000). This generous funding will keep the program running for at least another 12 months.
QUESTION: Have you had anyone report back that they have used the training to help save someone?
ANSWER: We have not had anyone come forward yet who has taken the class and then delivered CPR for real — but it's only a matter of time.
This article originally appeared on Richmond.com.