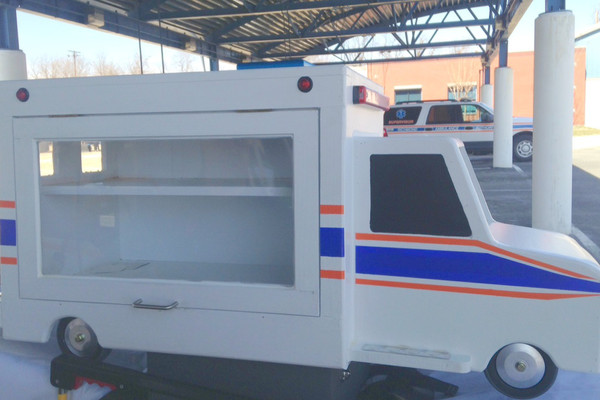 April 13–19 is National Library Week and the Richmond Ambulance Authority has opened its own branch of the "Little Free Library."
Little Free Libraries are hand-crafted structures that contain constantly changing collections of books donated and shared by people of all ages and backgrounds. Most Little Free Libraries are placed in front yards, parks, gardens and easily accessible locations. The libraries are built to withstand all weather and hold 20–100 books.
Originally designed to look like a one-room school or a "house of books," the libraries rapidly took on a variety of sizes, shapes, themes and other attributes. The RAA Little Free Library has been constructed and painted in the shape and style of an RAA ambulance, complete with flashing lights as the door to the library is opened.
The Little Free Library program has been in place since 2010 and the creation of the RAA library was the brainchild of paramedic Jennifer Norment. "As a member of the RAA Wellness Committee, I proposed the idea and partnered with RAA System Status Controller, Rebecca Szeles, who suggested that we construct an ambulance box. She volunteered her husband, Richmond police officer and wood worker Steve, to bring the project to life," says  Norment. Once constructed by Steve Szeles, its electronics were installed by RAA Fleet Manager Dan Fellows. Fellows is also a published fiction writer and one of his books will be the first in the library.
The ambulance box is located at the south entrance of the RAA complex on Hermitage Road. Books are available to all on a "drop-off/pick-up" basis.