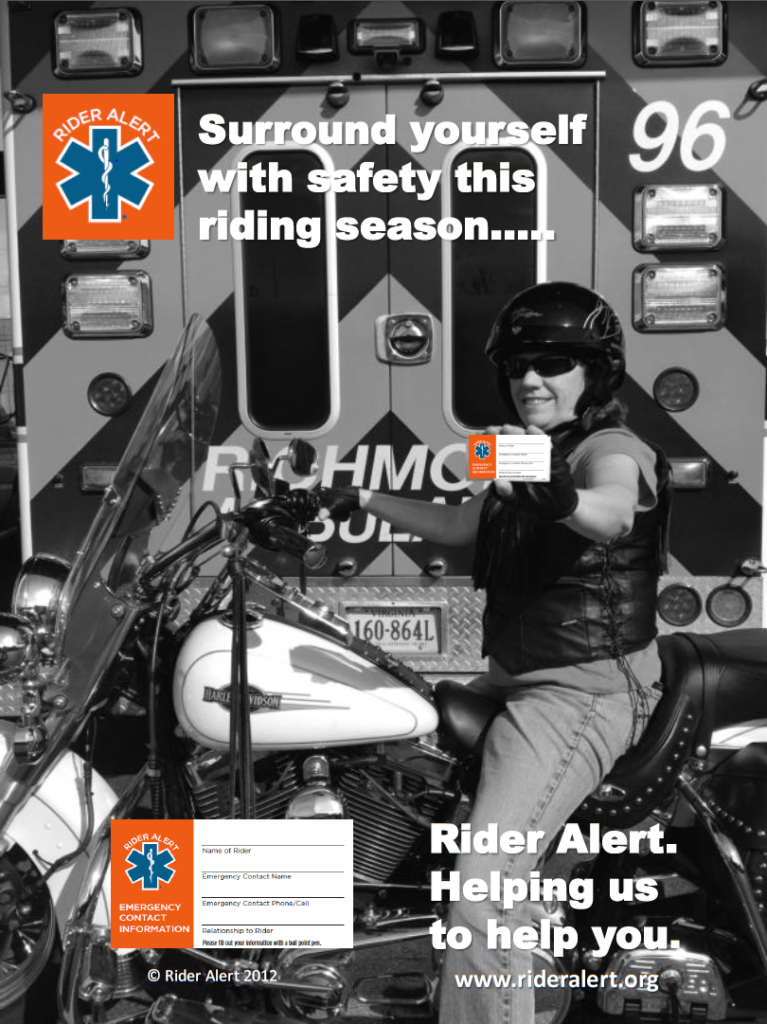 The Rider Alert program distributed it's one millionth motorcycle safety card on Tuesday, February 25, 2014. This milestone has been achieved through distribution programs in the United Kingdom (CRASH Card), Sweden (Medical Card), and by partnering with other US agencies in New York, Texas, Arizona, and Kentucky.
The Rider Alert motorcycle safety program distributes free identification data cards that help first responders to provide rapid and accurate medical assistance to motorcyclists involved in serious accidents. Launched by the Richmond Ambulance Authority, Bon Secours Virginia Health System and Motorcycle Virginia! in April 2011, Rider Alert is the first program of its kind in the United States. The Rider Alert card is placed inside a rider's helmet and contains vital life-saving information, emergency contacts and important medical history. When first responders arrive on the scene of a motorcycle accident, a sticker on the outside of the helmet will indicate that the biker has a Rider Alert card. The sticker also warns bystanders not to remove the helmet, which could cause further injury.
The Rider Alert program began as a concept of the UK Ambulance Motorcycle Club and is called CRASH card in the United Kingdom. In April 2011, the program was introduced in Virginia and rebranded as Rider Alert; in the intervening 15 months, through sponsorship, 200,000 Rider Alert cards have been produced and are finding their way into rider's helmets nationally and internationally.