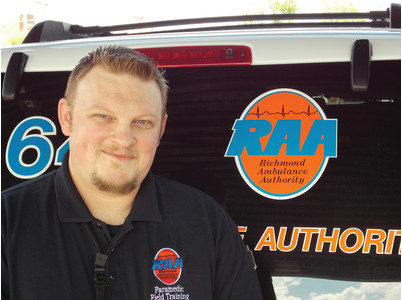 The National Association of Emergency Medical Technicians (NAEMT) has named Shawn Mease of the Richmond Ambulance Authority (RAA) as its Paramedic of the Year. Mease is the first paramedic from Virginia to win this prestigious national award which was presented at the EMS World Expo in Las Vegas Monday night.
Mease has worked in emergency medical services (EMS) for more than a decade.  As a paramedic field training officer at RAA, Mease is part of the team that provides ongoing clinical training to RAA personnel
"Being named Paramedic of the Year is quite an honor and we are very proud of Shawn," said Chip Decker, CEO of the Richmond Ambulance Authority.  "It is satisfying to see his dedication to clinical excellence and outstanding patient care recognized on a national level."
Mease was nominated for the award by Anna Ailstock, one of RAA's field training officers, and she had this to say:
"His dedication to maintaining and improving Richmond Ambulance Authority's reputation for World Class EMS is second only to his dedication to patient care and compassion.  As an advanced life support field training officer, he has embraced countless opportunities to pass on his knowledge and instill the highest standard of work ethic."
Mease is widely known for his compassion towards all – those with whom he works, patients and patients' families.  Ailstock continued, "Shawn has a natural ability to bring calm to frightening situations and ease the minds of confused and scared patients.  I will always remember when I had the pleasure of riding with Shawn one evening when we transported a frightened elderly female patient. The patient only stated that she did not feel well and had the growing feeling that she would soon die. She told us that she had outlived all of her close friends and family. I noticed that during the transport, instead of writing his report, Shawn was sitting next to her, intently listening while she spoke, holding her hand with her rosary between them and praying quietly with her. By the time we had arrived at the hospital, he had calmed her worries. She hugged him and told us that she "finally felt at peace". We learned later that she had died that night of natural causes. I remember thinking how easy it would have been to be complacent with this patient not knowing that ours would be among her last interactions. Shawn took the time to show true compassion to this frightened patient and while there was nothing to treat medically, he was able to give her exactly what she needed. Peace."
Mease is immediate past chairman of RAA's Clinical Services Committee which works closely with Dr. Joseph P. Ornato, RAA's operational medical director, to assess and improve clinical practices on an ongoing basis.   Under Mease's leadership as chairman, the committee researched and implemented leading-edge practices, procedures and protocols and introduced new equipment into service to improve the already high levels of patient care for which RAA is so widely known.  In fact, the patient care protocols book produced by RAA's Clinical Services Committee has since been adopted as the fundamental model for the entire EMS region in which RAA operates.
About NAEMT
Formed in 1975 and more than 32,000 members strong, the National Association of Emergency Medical Technicians (NAEMT) is the nation's only organization solely dedicated to representing the professional interests of all EMS practitioners, including paramedics, emergency medical technicians, emergency medical responders and other professionals working in prehospital emergency medicine. NAEMT members work in all sectors of EMS, including government service agencies, fire departments, hospital-based ambulance services, private companies, industrial and special operations settings, and in the military.
About the Richmond Ambulance Authority
In 1991, the Richmond City Council and the city manager implemented an Emergency Medical Services (EMS) system that placed the patient first and guaranteed its performance to the City's residents.  Today, the Richmond Ambulance Authority responds to approximately 135 calls per day and transports, on average, 110 patients per day.  RAA's emergency response times are among the fastest in the nation with ambulances on the scene of life threatening emergencies in less than 8 minutes and 59 seconds in more than 90% of all responses.  RAA is one of only 15 EMS agencies in the United States accredited by both the Commission on the Accreditation of Ambulance Services and the National Academies of Emergency Dispatch.  RAA is also a Commonwealth of Virginia Accredited Dispatch Center.