The Richmond Ambulance Authority (RAA) has been in regular communication with its staff and regional partners in regard to COVID-19. RAA is working with our state and local partners to safeguard our citizens and make sure we share the most current information available. We will continue to update information on this page and include resources citizens should use for accurate and reliable information.
**A call center is available to the public for general information about the novel coronavirus.**
The VDH number is 1-877-ASK-VDH3 (1-877-275-8343)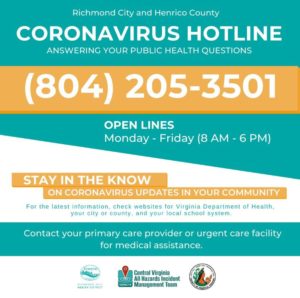 COVID-19 Updates
This story originally appeared on wric.com Following a temporary pause, the Richmond Ambulance Autho [...]
The following data is from the Virginia Department of Health. The information is updated at 9 a.m. daily.
COVID-19 Testing and Public Health Monitoring Data